Why Do Markets Always Go Up?
If you have been investing for a while or if you look at historical data, you realize that over the long term markets always go up. The economy doesn't stop when there is a market downturn. The U.S. experienced two world wars, a cold war, financial crises, and pandemics, but every time, the stock market progressed because of our willingness to fix issues and advance. Many people forget that the stock market reflects the health of our economy. If we can have a healthy economy, the market will reflect that. We will go over 5 reasons why markets continue to go up over time.
Innovation
After we mastered fire and crafted the wheel, humanity has been on a roll toward progress. There is no sign this innovative spirit is asleep. I remember watching Ironman putting his cell phone screen on the TV in a courtroom scene, and less than 2 years later, I was doing the same thing at my house with Google Chromecast. Innovation drives a company's profits and improves balance sheets. Because companies know that, they invest a lot of their time and resources into their research and development department. If companies want to come up with products that sell, they must innovate. You can't sell the same iPhone 5 every year, and you can't sell a stick shift minivan while new Tesla cars drive themselves on electric motors. Manufacturing efficiency can also result from innovation. With lower costs and talented labor, companies will thrive and provide better products at lower prices.
Global Economic Lift
Over the next 10 years, more than 7.5 billion people will have internet—that's about 90% of the projected world population. Innovation, like we spoke about before, is helping thousands of people who will create even more compounded innovation and economic output. The internet provides a platform for entrepreneurs to create their own businesses. As more businesses are created, the competition will push businesses to find new ways to sell and innovate. Efficiency in global trade will also help international collaborations. We will gain from foreign innovation by trading our own ideas.
Population Growth
Generally, population has increased over time. The world population is projected to reach 8.5 billion in 2030, 9.7 billion in 2050, and 11.2 billion by 2100. Population increase won't happen in every country, and it won't increase at the same rate in every region year after year. However, more consumers mean more revenues because most companies have global customers. As more people buy, sell, and trade, a direct positive impact will occur on business metrics.
Accessibility of Investing
Another influence over the stock market is its accessibility for the new generation. Through social media and online communications, the younger generation is becoming aware of new ways to invest. Plenty of YouTube videos explain how to invest and how stocks work. Brokerage firms are making it easier for their users to create an account and invest. In only a few clicks, people can invest which wasn't possible 20 years ago. With more people investing, stocks have a higher demand, pushing prices higher.
Natural Selection
The S&P 500 only tracks the 500 largest U.S. companies. As competition rises and technological innovation becomes a center piece to financial success, some companies fall short of expectations. If a company fails any of the criteria to be included in the S&P 500, the next best company is ready to replace it. Investing in a diversified fund that tracks the market can help keep up with the best companies in the country. Although we won't know what the largest companies will be 10 years from now, we know they will be better suited to the period than the current companies.
You can't time markets. Even the smartest Wall Street trader cannot accurately time the market. To reap the benefits of compound interest, you, as an investor, must be diversified, and your assets need to be invested for the long haul. Timing the market is swimming upstream to a long-term current that is rising all ships. Remain aboard. Staying properly diversified is the key to weathering the storm in this volatile environment.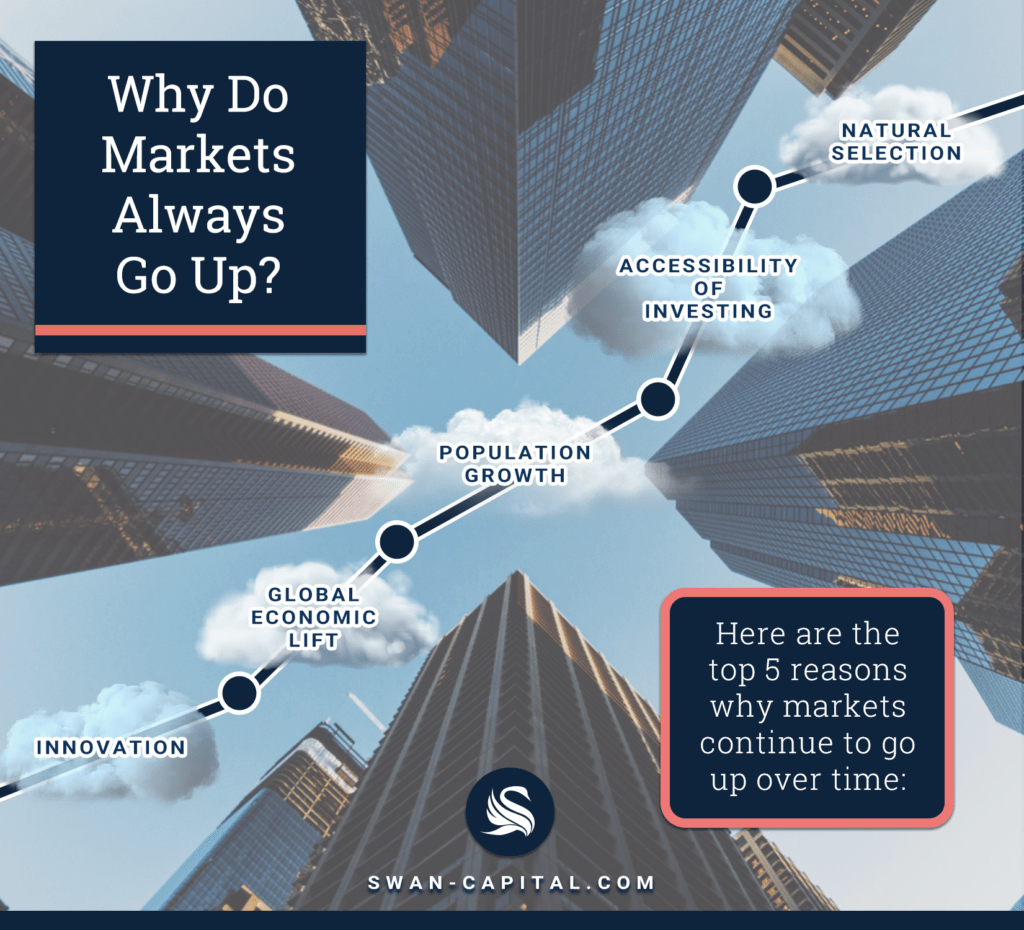 SWAN Capital is registered to conduct advisory business in Alabama & Florida and in other jurisdictions as permitted by law. SWAN Capital and its representatives are in compliance with the current filing requirements imposed upon State registered investment advisors by those states in which SWAN Capital maintains clients. SWAN Capital may only transact business in those states in which it is registered or qualifies for an exemption or exclusion from registration requirements.
Past performance may not be indicative of future results. Therefore, no current or prospective client should assume that future performance of any specific investment, investment strategy or product referred to directly or indirectly in this web site, will be profitable or equal to the corresponding indicated performance level(s). Different types of investments involve varying degrees of risk, and there can be no assurance that any specific investment will either be suitable or profitable for a client or prospective client's investment portfolio. The presence of this website shall in no way be construed or interpreted as a solicitation to sell or offer to sell advisory services to any residents of any State the firm is registered in or where otherwise legally permitted. All written content is for informational purposes only. It is not intended to provide any tax or legal advice or provide the basis for any financial decisions. Advisory services offered through SWAN Capital, LLC. Neither the firm nor its agents or representatives may give tax or legal advice. Individuals should consult with a qualified professional for guidance before making any purchasing decisions. Although there is no up-front tax deduction for Roth IRA contributions, qualified distributions are income tax free. Investing involves risk, including the potential loss of principal. SWAN Capital is not affiliated with the U.S. government or any governmental agency.
Thought this info was useful?
Please share it on your social media platforms!
Ready to Take the Next Step?
For more information about any of our products and services, schedule a meeting today or register to attend a seminar.