Read Andrew McNair's Books
Check out these books authored by our company president!
"The Giving Crisis:
Helping Average Givers
Become Everyday Philanthropists"
By Andrew McNair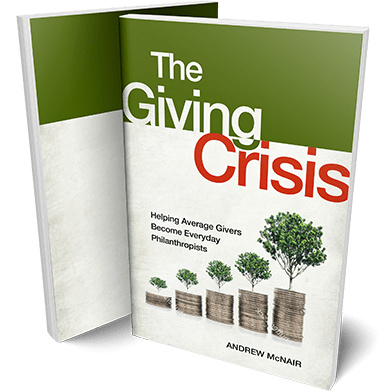 Uncover a countercultural way to manage your finances by focusing on generosity instead of the typical accumulate-as-much-as-you-can model. This book is designed to help individuals and families who have a heart to give, and become everyday philanthropists. You will discover biblically sound principles that have guided givers of all wealth levels to deepen their involvement, leverage their gifts and give generously to causes they care about.
Author Andrew McNair explains the tangible, step-by-step money management systems that will help readers multiply their generosity efforts. By sharing insightful scriptures that will shape your philosophy on giving, he offers encouragement to give more than you ever imagined possible.
So, you think you can't afford to tithe? As a financial adviser, I have had so many clients say they just can't afford to take 10 percent out of their income. And I've heard all the excuses.
This guide is has two main purposes:
To give you encouragement and help you see the benefits of tithing.
To show you an easy way to make tithing a part of your life without putting you in the poor house.
My walk with the Lord has never been the same since the day I chose to tithe and I want to show you how to tithe through my living testimony. I pray this book is a blessing to you and your family.
"Tithe: A Living Testimony"
by Andrew McNair
"Don't Be Penny Wise &
Dollar Foolish"
By Andrew McNair
Our world is filled with myths about money and retirement planning that are confining people to their utmost financial potential. "Don't Be Penny Wise & Dollar Foolish" by Andrew McNair candidly discredits common financial misconceptions and imprudent institutions.
Ready to Take the Next Step?
For more information about any of our products and services, schedule a meeting today or register to attend a seminar.