Veteran Benefits to Help Pay for Long Term Care
My grandfather was my hero. He served as an officer in the Navy for 30 years, serving during three wars. Yet, at 92, he was about to face one of his most difficult conflicts. My grandmother and eventually himself required long term care, and he thought he was prepared for the expense. For nearly 20 years he had invested $100,000 in premiums for long term care insurance. Sadly, his careful planning didn't work out as he hoped, because the company he had been paying the premiums to became insolvent. The money he had invested was in jeopardy.
It was quite the blow. But what's also unfortunate was that there were VA benefits he was eligible for the whole time, and he didn't know anything about it.
My grandfather was eligible for long term care benefits from the U.S. Department of Veterans Affairs. These benefits were designed to financially assist war-time veterans and their spouses with their assisted living, nursing home or home health care.
After sharing his story on my radio show I discovered that my grandfather wasn't unusual. Most veterans don't know about this benefit, or don't think they would qualify. In fact, since 1951 – when what's known as the Veterans Aid and Attendance benefit was enacted – fewer than 200,000 veterans have taken advantage of it.
It's not that the vast majority of veterans are ineligible. In fact, the qualifications are fairly simple and straightforward1:
90 days of military service of which at least one day was during wartime
No dishonorable discharge
Age 65 or disabled
Have an Assisted Daily Living (ADL) need
By meeting these criteria, the veteran and spouse, or the surviving spouse if the veteran is deceased, are eligible for up to as much as $27,194 a year in benefits.
How much they may receive varies depending on their situation. Here's how it breaks down:
Single Veteran – $1,911 monthly
Veteran and spouse – $2,266 monthly
Widow/Widower – $1,230 monthly
One of the best parts of this benefit is that it is tax free. These benefits are in addition to current retirement incomes such as a military pension, Social Security and other pensions.
Sadly, 95% of the veterans we have spoken with were completely unaware of this benefit. Beyond that, only one out of seven widows or widowers who are eligible receives the benefit. That means a lot of people who could be helped by this benefit are not claiming what is rightfully due to them.
These benefits are timely because the costs for long term care can be staggering. The Genworth Cost of Care study pegged the national median expense at $51,600 per year for assisted living, $93,075 a year for a semi-private nursing home room, and $105,850 per year for a private nursing home room2. Without these benefits, many veterans and their widows will struggle to be able to afford this kind of expense in retirement.
That's why it's so important to get the word out to veterans. They earned this benefit. They need to take advantage of it.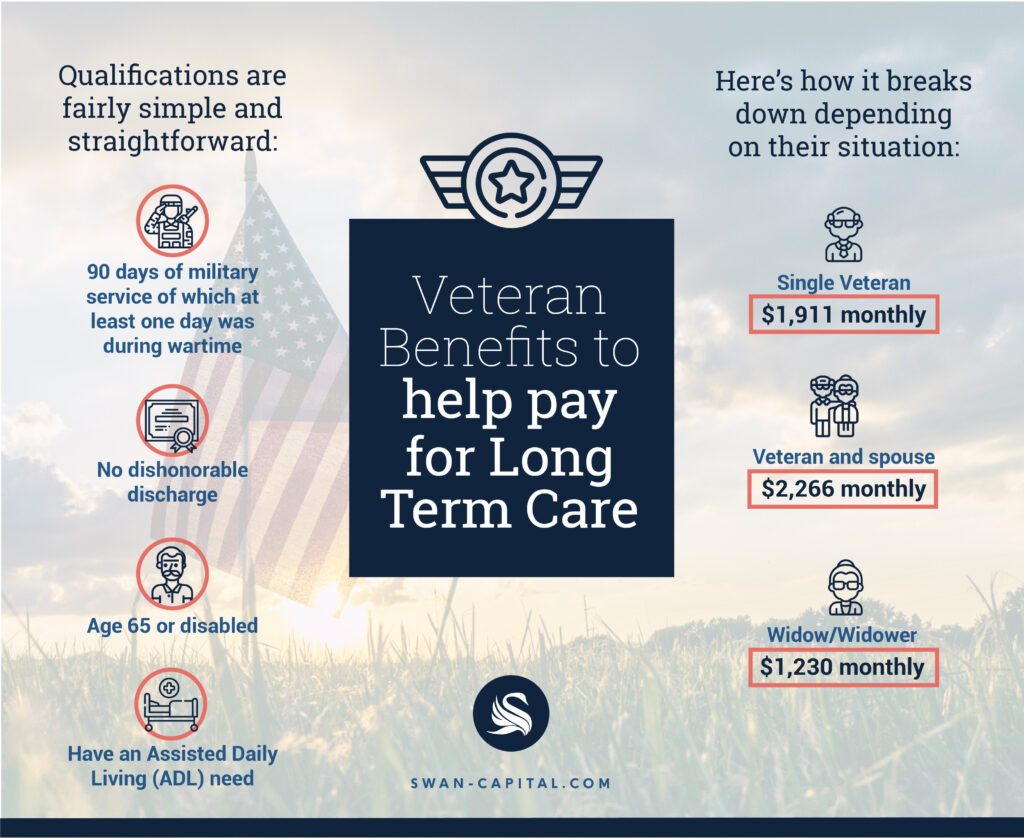 Our firm is not affiliated with or endorsed by the U.S. Government or any governmental agency. Information and opinions contained herein that has been obtained from third party sources is believed to be reliable however accuracy and completeness cannot be guaranteed. SWAN Capital is registered to conduct advisory business in Alabama & Florida and in other jurisdictions as permitted by law. Advisory services offered through SWAN Capital, LLC.
1 "Cost of Long Term Care by State: Cost of Care Report." Genworth, www.genworth.com/aging-and-you/finances/cost-of-care.html.
2. Americanveteransaid.com. 2021. Eligibility – American Veterans Aid. [online] Available at: <https://americanveteransaid.com/eligibility> [Accessed 10 September 2021].
Thought this info was useful?
Please share it on your social media platforms!
Ready to Take the Next Step?
For more information about any of our products and services, schedule a meeting today or register to attend a seminar.