LTC Options: Choose any Option, But Choose
While I was growing up, my grandfather became, and continues to be, one of the greatest role models of my life. After my grandmother passed away, my grandfather became a bachelor living by himself. I was the only other bachelor in the family available to live with him. It was one of the best years of my life spending time with my grandfather. With that being said, he wasn't perfect and didn't have all of the answers.
In an effort not to be a burden to anyone, including my grandmother and family, he decided it would be a good idea to buy long term care (LTC) insurance. Unfortunately, after investing in LTC insurance for 20 years, my grandfather passed away after only 20 days into his policy elimination period. What is an elimination period? It is the period of time that a long-term insurance provider requires the insured to pay out-of-pocket for his long term care before coverage kicks in. What that meant for my grandfather was that he left more than $100,000 in insurance premiums to the insurance company rather than his family. This wasn't the insurance company's fault; my grandfather paid for it willingly and understood the terms.
But is there a better way? We will unpack what other types of options are available for LTC coverage.
First, you have to understand that many families do not plan for the exorbitant cost of long term care because it may be decades into the distant future. Second, some families believe the common myth that Tricare, Medicare or health insurance will pick up the full LTC tab, which isn't the case.
Speaking of the tab, according to Genworth's recent cost-of-care survey, the average cost of an assisted-living facility (ALF) across the country is $4,300 per month for one person. The cost of long term care is staggering, but what's more terrifying is that the cost hasn't stayed stagnant – it is increasing by about 3% every year. Meanwhile, Social Security benefits increased by only 1.6% for 2020. Imagine if this trend continues. Fast forward to 10 years from now, when most of my clients will need these services: that $4,300 per month could rise to approximately $5,770 at a 3% growth rate1. Extrapolate that out by 20 years and the monthly bill may surge to $7,766 – far outstripping the level of increase we can expect in Social Security benefits.
Here are a few options to help protect your family finances.
Option 1. Traditional long term care insurance is very similar to the auto insurance model. As long as you pay your monthly, quarterly or annual premium, the insurer will provide a benefit to help limit exposure to your assets. Now if you never have an accident or need to tap your insurance policy, what will the insurance company do? Refund your money? Typically not. This leaves millions of insured people paying for something they hope they will never use.
It's comical to think how no one ever wakes up and thinks: "This seems like a great day to use my car insurance. I've been waiting to use this." I don't know about you, but the feeling of paying for years into something I hope to never use can be frustrating. Purchasing long term care insurance is better than not being prepared to pay for these expenses at all, but it may rub you the wrong way over the long run. In other words, it feels great when you need it, but a waste of money when you don't.
It is imperative to recognize that an insurance policy is a contract, and you must understand the terms. For example, if you don't have ample savings, but your long term care insurance policy has a 180-day elimination period, this could leave your loved ones in a predicament trying to figure out a way to pay for your care until coverage kicks in.
Option 2. Long term care hybrid. Hybrid policies are relatively new and come with a unique feature: If you don't use it, you don't lose it. These products work very simply. For example, if you invest $100,000, your premium will begin earning a competitive interest rate, much like that of a bank CD. Should you need care in the future, the company then multiplies the original account value by a specific factor (often up to three times); this would leverage your original $100,000 investment into up to $300,000 to help offset the cost of assisted-living or skilled-nursing care. Be aware that there are many different hybrid insurers and a wide variety of options to choose from, so it's important to conduct research and due diligence to choose the best hybrid plan for your situation.
Option 3: Self Insuring can be a great option if you have enough income via a guaranteed pension, Social Security benefits, and investments to absorb the potential cost of long term care. I have witnessed families who were manipulated by fear tactics into buying long term care insurance but know that there are other alternatives. Married couples should carefully consider how much each spouse would have in income if the other were to pass away or require long term care.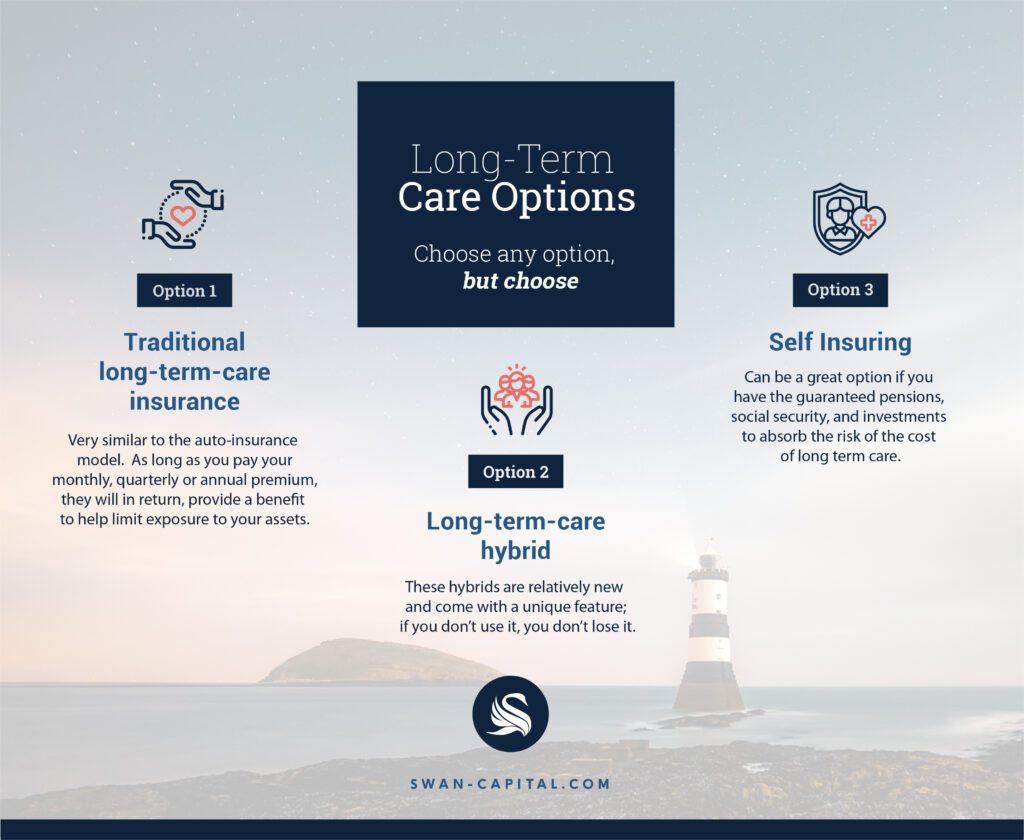 Our firm is not affiliated with or endorsed by the U.S. Government or any governmental agency. Guarantees and protections provided by insurance products, including annuities, are backed by the financial strength and claims-paying ability of the issuing insurance carrier. Living benefits are available in the form of accelerated death benefits. These benefits are NOT a replacement for long term care (LTC) insurance. Living benefits and LTC riders are not available on all index universal life products and may not be available in all states. Addition of an accelerated death benefit or LTC rider may require an additional fee. Accelerated death benefits and LTC riders are subject to eligibility requirements. Information and opinions contained herein that has been obtained from third party sources is believed to be reliable however accuracy and completeness cannot be guaranteed. SWAN Capital is registered to conduct advisory business in Alabama & Florida and in other jurisdictions as permitted by law. Advisory services offered through SWAN Capital, LLC.
1 "Cost of Long Term Care by State: Cost of Care Report." Genworth, www.genworth.com/aging-and-you/finances/cost-of-care.html.
Thought this info was useful?
Please share it on your social media platforms!
Ready to Take the Next Step?
For more information about any of our products and services, schedule a meeting today or register to attend a seminar.