COVID-19 Wake Up Call
The world will be forever changed by the COVID-19 crisis. Any crisis can highlight glaring cracks in a financial plan, but COVID-19 was not just any crisis; it was a global crisis that woke up business owners and Americans because so many were not prepared for a squeeze on their cash flow. COVID-19 was not the first crisis and it won't be the last. Financially, it is imperative we have emergency savings for our business and personal lives.
"How much should I have in an emergency fund?" This is a great question we need to get to the bottom of. I have counseled hundreds of retirees on what is adequate emergency savings. Here are my tips to help customize your emergency fund for your family.
Tip #1 – Use the Job exercise, not the "job" exercise – the Job exercise from the Bible. Job was a loyal follower of God who was stripped of his family members, health, and possessions by the devil. Without divine intervention, I want you to make sure that you are prepared for a crisis by having enough money set aside for the following: home insurance deductible, auto insurance deductibles, health insurance deductibles, average pet bill, and, lastly, enough for the cremation bill. Why? Because if your house blows away, your car needs repairs, your spouse gets sick, your dog gets sick or someone in your family passes away… Well, at least you can have the confidence knowing that you can be covered from a black cloud hanging over your family. I know I make light of these possible tragedies that do happen in people's lives, but we should hope for the best while planning for the worst. Especially if the worst all happens at once like it did for Job.
Tip #2 – Once you pass the Job exercise, there is one more test you will want to work up to. Many professionals recommend you have six months to one year of expenses. However, if a crisis ensues, layoff or career changes occur, you want to make sure you have – ideally – one year of income. When you have one year of income, you know you can help sustain your family's same standard of living, taxes can be paid and retirement accounts will be funded. One year of income can help give your family a one-year runway to get back on your feet.
Tip #3 – Don't go overboard. Isn't it a good idea to have a lot of money set aside for an emergency fund? I've seen the opposite extreme too many times. For example, if a couple has an extra $400K in money markets and cash equivalents. They are earning a meager 1% on their emergency savings. This $4,000 of yearly interest is taxable which means they are not even making a true 1% on their assets. After establishing a proper emergency fund, $300,000 would be now released to go to work for them, allowing them to make an extra 2% in interest. An extra 2% in their case equaled an additional $8,000 in yearly interest without taking any more risk.
Tip #4 – Do not invest your emergency savings. Investing your emergency fund could be a recipe for disaster. Mr. Market appears to be psychic, because when your family is in trouble he may not cooperate with your demands. In other words, the market may be volatile during difficult times when you need your money the most. If you need income from your investments, often-times your equities will be down when you have to sell – realizing losses. Once you sell those shares, I know it sounds simple, but those funds can never recover because they are not there anymore. The riskiest investment I recommend for an emergency fund is a floating rate bond fund. These funds are typically very low risk but can pay more interest than a checking account.
The worst financial situations I have ever witnessed were families who did not prioritize emergency savings. Instead, they used credit cards and other debt instruments to save them, until that safety net broke and they found themselves digging deeper into long-term debt situations. Job's story was a story of faith, not failure. I have told many clients: Do not let your savings be where your faith lies but be a good steward of what you make and save. Therefore, utilize these tips to help make wiser decisions with your emergency savings.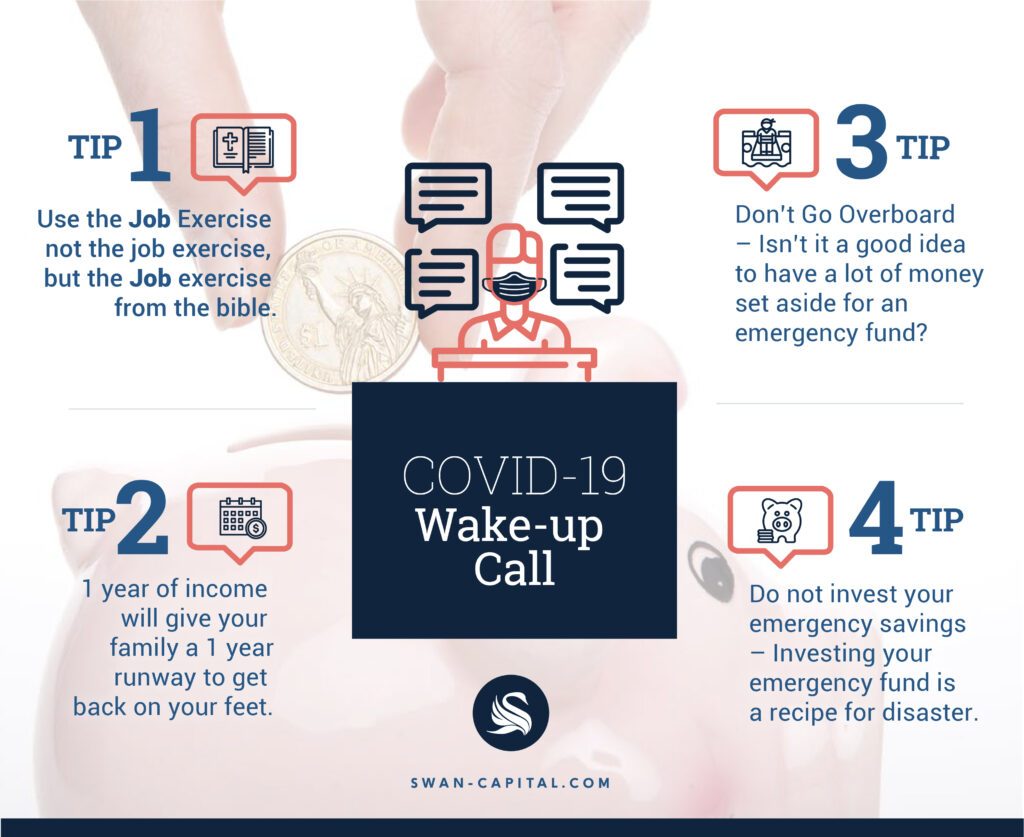 SWAN Capital is registered to conduct advisory business in Alabama & Florida and in other jurisdictions as permitted by law. Advisory services offered through SWAN Capital, LLC. All investments are subject to risk including the potential loss of principal. No investment strategy can guarantee a profit or protect against loss in periods of declining values. Information and views expressed are those of the author and are believed to be reliable; however, neither Advisors Excel nor its representatives are responsible for the accuracy of the materials being presented. Information presented has not been verified and is not guaranteed.
Thought this info was useful?
Please share it on your social media platforms!
Ready to Take the Next Step?
For more information about any of our products and services, schedule a meeting today or register to attend a seminar.