Three Retirements in One
It's normal to be on the cusp of retirement and not know what to expect. I have seen this look countless times; it's a healthy mix of anxiousness and excitement. The reason is because retirement is a broad term, which makes it hard to grasp what it will be like. What I've observed over the last decade is that retirees experience three very distinct retirements within one.
The Three Phases of Retirement
"Green" Years – These years are often some of the most fun and active years of your life! The lingo of these retirees sounds something like this: "We are so busy going here and there and doing this or that. When did we ever have time to work in the first place?" "If I would have known how much fun retirement was, I would have retired earlier." The fantastic part of this phase is that you finally have time, health, and family bonds. You have the time to finally visit all of the great American baseball parks, you have the health to walk up all the steps to your seats, and you have the grandchildren's desire to join you. Sadly, I have watched retirees play it safe during this period, erring on the side of caution to ensure they don't spend too much because they fear running out of money later. Unfortunately, they leave memories on the table that will never be claimed. Don't let these years pass you by and regret not having lived your retirement to the fullest.
"Yellow" Years – These are the transitional years when you start to get the hang of retirement. You settle into habits and prioritize your passions. However, over time our body can't always cash the check like it used to, due to arthritic knees or that annoying back pain that prevents you from staying in the same position for too long. As we get older, it is natural that our health changes over time. The lingo of this phase goes a lot like this: "Bob's knee is giving him fits so we won't be taking another international trip anytime soon." "Carolyn's weekly tennis match has moved to twice a month." "We think we're going to sell the RV this year." These years do not have to be depressing but pay attention to the health caution lights flashing – they are reminders to hurry up and cross off major bucket list items.
"Red" Years – These are the years when you can reconnect with children and grandchildren who are now adults. The lingo that may sound familiar in this stage: "Son, would you mind hosting Thanksgiving this year?" "I want you to come over to the house and see what items you would like if something ever happens to me or your father." This phase is a time when retirees begin to view their money as if it's not even theirs anymore. They look at managing their money more as a custodian for their children's and grandchildren's future. This is a perfect phase to ensure your nest egg is ready for the next generation and start intentionally passing on your wisdom too. During this phase, it's important to prioritize brain-stimulating activities and intentionally getting out of the house to try new things.
It's not realistic to assume you will need the same amount of income every year until you pass away at age 98. When planning for your retirement, it is important not to visualize retirement as a simple linear path, but rather as three major chapters. When building your retirement income, be sure to front load for the "Green" years so you will have an abundance of memories instead of stockpiled regrets.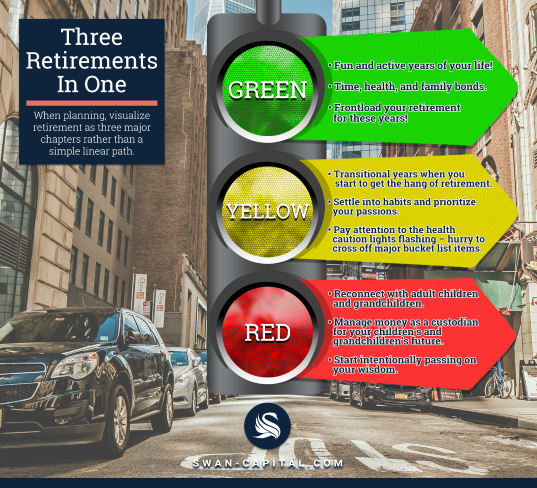 All investments are subject to risk including the potential loss of principal. No investment strategy can guarantee a profit or protect against loss in periods of declining values. Information and opinions contained herein that has been obtained from third party sources is believed to be reliable however accuracy and completeness cannot be guaranteed. SWAN Capital is registered to conduct advisory business in Alabama & Florida and in other jurisdictions as permitted by law. Advisory services offered through SWAN Capital, LLC.
Thought this info was useful?
Please share it on your social media platforms!
Ready to Take the Next Step?
For more information about any of our products and services, schedule a meeting today or register to attend a seminar.