The Last Financial Advisor
Why should you hire a younger advisor? I want to share with you the 4 reasons why I think you should select a younger advisor to be your last financial advisor. Now, the elephant in the room is that I am writing this to you as a young advisor. I started in the financial industry when I was 14, so you could say I have been "young" for a while. These are my observations from over a decade of watching my colleagues of all ages, from behind the scenes, work with their clients.
---
Executing the Plan
A Financial planner obviously is supposed to create a financial plan for every client. A plan should be a tangible roadmap of your retirement covering aspects such as, but not limited to, tax planning, legacy planning protection from liabilities, long term care, income planning, and investment recommendations. A good financial advisor will not only build a plan for you but will act as the tour guide in helping you navigate the rocky terrain of retirement. However, if your tour guide leaves you at your first train connection with YOUR travel itinerary in THEIR hand, your vacation is now a train WRECK. There is no promise that a young advisor will live longer than an older one but based on life expectancy, we can speculate as much. Hopefully nothing will befall your advisor, but the facts are that 37% of my colleagues will be retired in the next 10 years. 1 Hiring a younger financial advisor can help provide assurance that you have someone building, implementing, and guiding your plan over the next 20+ years.
Staying Up-to-Date
"Behind the times" is not an expression you want to hear when it comes to your tax and financial strategies. Between the tax law changes and ever-changing landscape of investment opportunities, ignorance is not bliss when it comes to financial planning. I refer to the planning we do as financial chess because to win a chess game you must remain 3 moves ahead of your opponent. The government, specifically the IRS, is not your ally in retirement planning. Therefore, having an advisor that stays in the same groove throughout these uncertain times less than ideal. You want an advisor that is up-to-date, is hungry to learn new tactics, and stays abreast of law changes. When it comes to your money, you never want to hear, "well that's how we have always done it".
Connecting to Your Children and Grandchildren
On the front page of our clients' financial binder is a huge red stop sign. It reads. "STOP call Andrew (our financial advisor) before you make any decisions." Why is this first page of a financial plan and binder? Your financial legacy will not come with your audible narration. The financial desires and dreams that you have for your family are at jeopardy if left up to chance. My clients expect me to be there when they aren't to help transition their retirement assets to become "hands-up" instead of handicaps to their next generation. A good, young financial advisor will hopefully become a great older financial advisor that can share priceless wisdom to your children. They can help them setup 529 plans, Roth IRAs, and other investment vehicles to help jump-start the next generation's road to retirement.
Your Spouse's Copilot
On average, women live seven years longer than men and the average age of widowhood is 59! Selecting a young financial advisor is critical to making sure your spouse has someone they can trust that has already been selected to come alongside them in their hour of need. Sadly, many do-it-yourselfers believe their spouses will be taken care of financially, yet it will be the surviving spouse that will be flying the plane for the rest of journey. Midstream they will have to learn the controls and figure out how to check the gauges. and they will live with the consequences of a plane's fuel level being left on empty. A younger financial advisor should seek to understand your investment philosophies, risk tolerances, and financial goals to help your spouse carry them on to fruition. ​ Remember this: 80% of men die married and 80% of women die widowed. 2
I would be remised If I didn't share what to watch out for when selecting a young advisor. Make sure they have experience with your chapter of life; find someone who specializes in retirement or accumulation for retirement. Ask if they work with other clients that have your same net worth. Have they walked through an economic crisis before? Is this a job or a career for them? If you are hesitant to let your long-time older advisor go, take solace is remembering that when they retire, they won't ask your permission. They will not call every client and ask for your blessing, they will retire because any good advisor would want you to do what is the best thing for you and your family. They will do what's best for their family and so should you.
---
We are an independent firm helping individuals create retirement strategies using a variety of insurance and investment products to custom suit their needs and objectives. This material is intended to provide general information to help you understand basic financial planning strategies and should not be construed as financial advice. All investments are subject to risk including the potential loss of principal. No investment strategy can guarantee a profit or protect against loss in periods of declining values.
---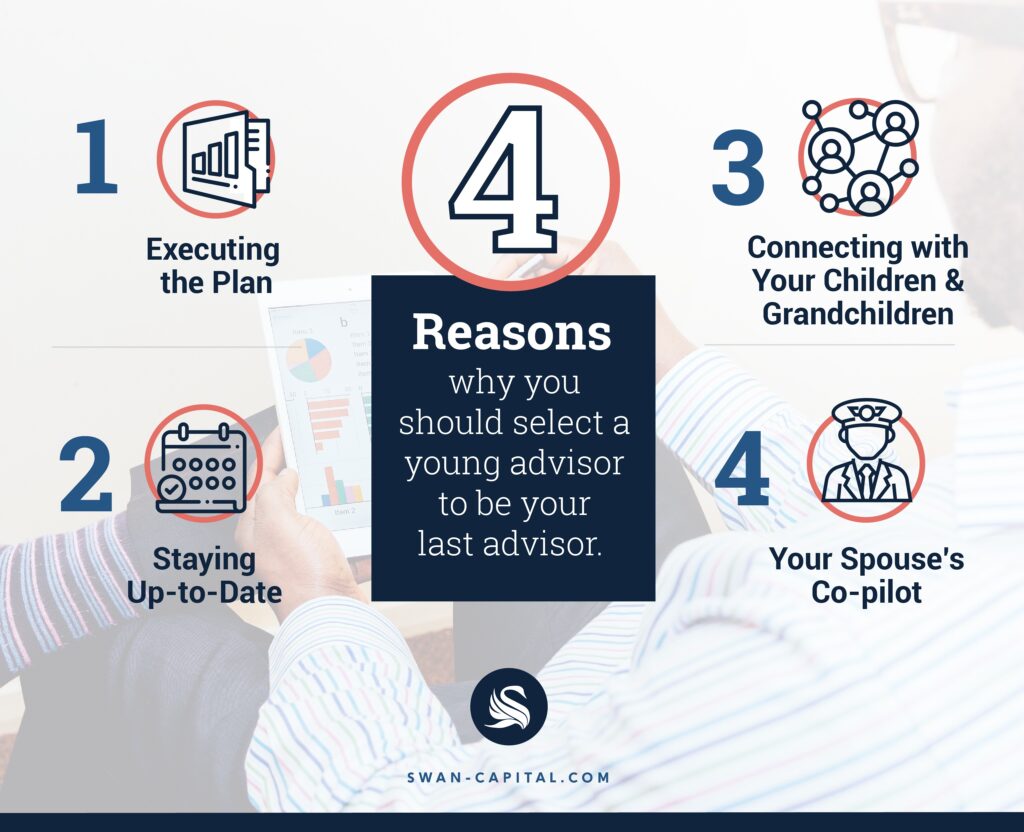 Thought this info was useful?
Please share it on your social media platforms!
Ready to Take the Next Step?
For more information about any of our products and services, schedule a meeting today or register to attend a seminar.