How to Spend Your Money in Retirement
If they taught Wealth 101 and Investing 201 in school, I must have been on my way to the beach – skipping class. I know we both missed these classes in school. Luckily, along the way we are taught to put money in our 401(k) and/or work for a company with a solid pension plan. Yet, when we get to retirement they don't teach us one crucial lesson: How to actually spend our money in retirement.
Here are two steps that have helped our clients prepare for retirement.
Test drive your retirement
No test ride is complete without stretching your legs to check the leg room. We enjoy doing this for our clients in a visual way. We love to lay out all of our client's future income, in addition to a conservative estimate of their dividend income from their investments. Once we have this all totaled, we can see what kind of leg room they have left. We encourage clients to stretch their legs out as much as they can by using the upper end of their monthly budget estimates. These estimates must include your yearly expenses, home repairs, bucket list travels and even the rug that needs to be replaced from time to time. Don't forget to compare this to what you are currently living on every month. Your life pre- and post-retirement lifestyle rarely changes so drastically. Do not make the bold assumption of trusting that your family will need only a fraction of the income you live on today. Many of our clients have experienced the opposite; they have seen their lifestyle cost increase due to health care and traveling expenses. By test driving retirement before they signed on the dotted line, we have been able to give clients the signal to grab their keys and retire early. For others, they did not feel comfortable driving off into the sunset – and decided to delay their retirement a few more years.
Don't forget your business partner: Uncle Sam
There is actually a wrong way and right way to spend your money in retirement. I have found numerous retirees were unsure if they should spend their IRA, money market account or Roth IRA first. For the majority of retirees, we recommend that you begin spending down your traditional IRA first. Why qualified accounts first? We cannot be certain about the future of tax rates, will but we know they are historically low today. Second, if you're married it is especially true to spend down your IRA first. This is because you want to leave your spouse with the remaining investments in a more favorable position. It is preferable to leave your spouse and children with tax-free and taxable accounts. Lastly, if Roth IRAs and tax-free accounts are the last accounts you spend down, it gives you permission to possibly take more risk with them. Why should you take more risk with tax-free accounts? If you know they are the last buckets you will spend down in retirement, it gives you a longer investment horizon. A longer investment time horizon gives you flexibility to stomach the short-term fluctuations of the stock market. Plus, all of your future growth will not have to be shared with Uncle Sam.
Despite missing these two important classes, by following these two steps you can still ensure your family is prepared for the retirement preparation quiz.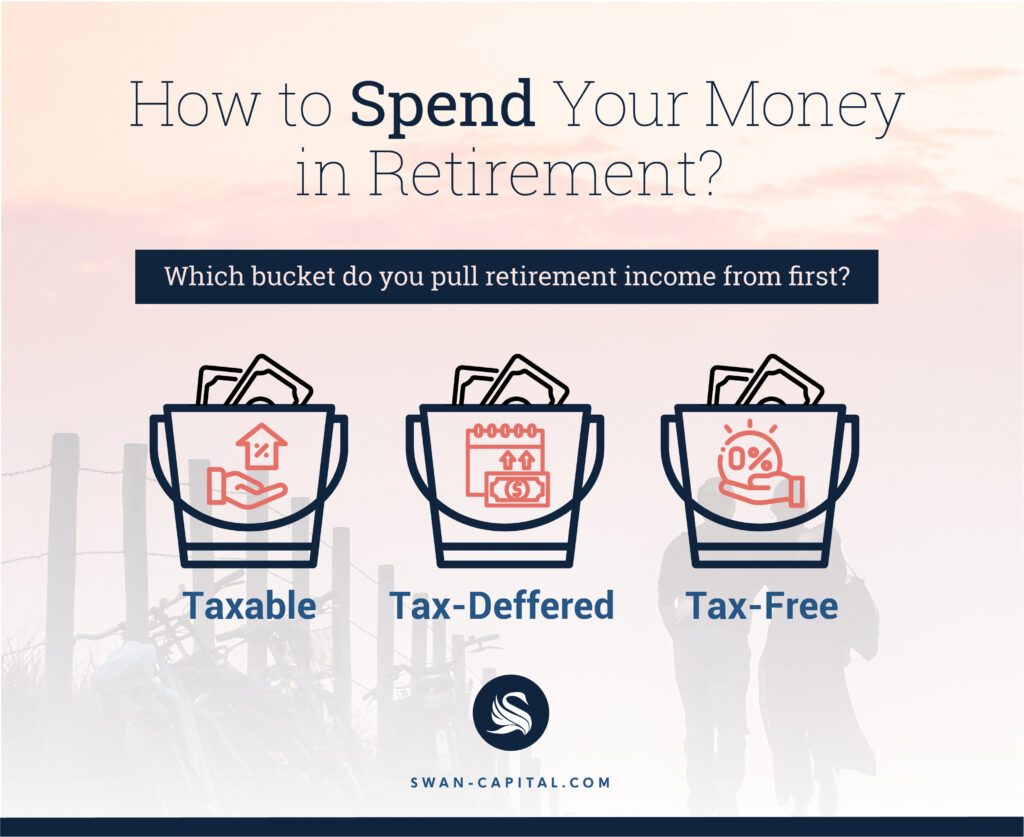 Investment advisory services offered only by duly registered individuals through Swan Capital. All investments are subject to risk including the potential loss of principal. No investment strategy can guarantee a profit or protect against loss in periods of declining values. This content is provided for informational purposes only and is not intended to serve as the basis for financial decisions. Neither the firm nor its agents or representatives may give tax or legal advice. Individuals should consult with a qualified professional for guidance before making any purchasing decisions. 00664809
Thought this info was useful?
Please share it on your social media platforms!
Ready to Take the Next Step?
For more information about any of our products and services, schedule a meeting today or register to attend a seminar.