Retirement's Pesky Black SWANs
Black Swan events are by definition an unpredictable or unforeseen occurrence; typically one with extreme consequences. These are the uppercuts to retirement that no one sees coming. However, many Black Swan events in your retirement are less surprising when you know the facts. The three main Black Swans I commonly see among retires are unexpected death, disability and divorce.
Death – No one will ever be prepared for a loved one's passing. Sometimes it can catch you by surprise, while other illnesses may drag on for years. However, when a loved one passes, it will always be remembered as a heavy milestone in your life. Sadly, the weight of this milestone may be felt not only emotionally, but financially as well. How can you prepare? Run a "what if" scenario with your spouse by listing out all the following resources available for the survivor: future income streams, readily available assets, outstanding debts and in-force life insurance policies. By aligning your resources with your normal day-to-day expenses, you can give loved ones and yourself the assurance that you are prepared for the worst Black Swan Event.
Disability – they say that youth is wasted on the young, but let us not waste wisdom on the old. Many retirees underestimate the cost of health and long term care going into retirement. How can you prepare? One of the best exercises is by doing your research ahead of time about these type of expenses in your local community. Check out Genworth's Long Term Cost of Care Survey to find out the average cost of long term care in your local area. Assisted living communities, nursing homes and home care companies are all private pay situations – that means Medicare, health insurance, Medicaid and Tricare will not bail you out. Therefore, these expenses can leave unprepared families with few options, one of which means spending down their assets to qualify for Medicaid. To help prepare for disability, be sure to write down your wishes for your future health care decisions and give your children a copy. Speak with professionals about Long Term Care Insurance, Continuing Care Retirement Communities or research the Veteran Benefits like the Veteran Aid & Attendance benefit.
Divorce – One of the fastest-growing curve balls in retirement is the divorce between two partners. Gray Divorce, as it has been coined, is when a couple decides after 30 years or so to call it quits. You can dodge this Black Swan event in retirement by seeking help to avoid it. The two frequent culprits for divorce are (1) not seeing financially eye-to-eye and, (2) drifting apart. Therefore, go out and buy a date-night idea book and schedule a visit with a financial professional who can act as a mediator in financial decisions. Don't let divorce separate you from the love of your life – or your assets.
Black Swans are unforeseen events that can affect many good-intentioned and hardworking families that don't look both ways. Stay on the lookout by being diligent, proactive and never assume you are above any of the deadly Ds – Death, Disability and Divorce. I'll leave you with wise words once spoken by George Bernard Shaw: "If history repeats itself and the unexpected always happens, how incapable must man be of learning from experience."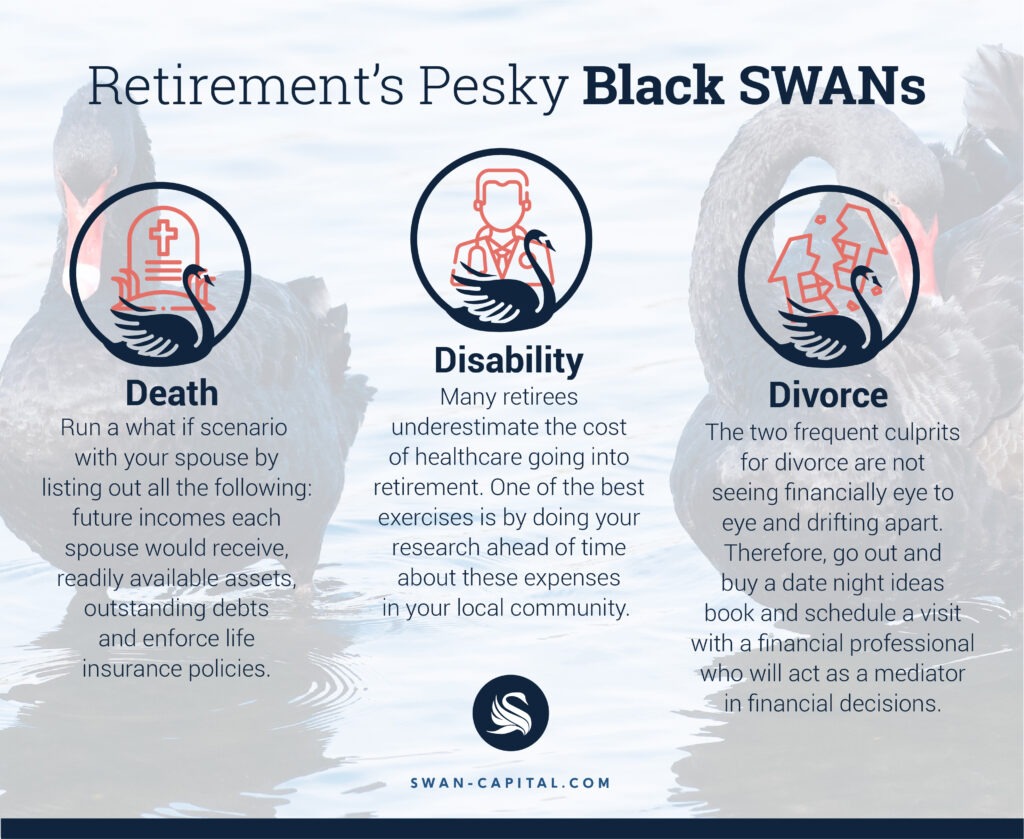 We are an independent financial services firm helping individuals create retirement strategies using a variety of investment and insurance products to custom suit their needs and objectives. Investment advisory services offered only by duly registered individuals through Swan Capital. Neither the firm nor its agents or representatives may give tax or legal advice. Individuals should consult with a qualified professional for guidance before making any purchasing decisions. Investing involves risk, including the potential loss of principal. Annuity guarantees are backed by the financial strength and claims-paying ability of the issuing insurance company. This information is not a solicitation to buy or sell any product. It is not intended to be used as the sole basis for financial decisions, nor should it be construed as advice designed to meet the particular needs of an individual's situation.661703-06/20
---
Thought this info was useful?
Please share it on your social media platforms!
Ready to Take the Next Step?
For more information about any of our products and services, schedule a meeting today or register to attend a seminar.