Retired & Bored
Have you ever wondered why, as you get older, you feel like time is speeding up? Some researchers believe that it is because our mind is not interested in remembering daily routines. The brain files it in the recycle bin as not important, thus making your days feel shorter because there is nothing important to file away. However, when you travel and try new things, your brain says: "Wow, this may be important. Let's file it away in long-term storage." This is why the first time standing under the Eiffel tower in Paris is a memory that my wife and I will never forget. Our stay in Paris was short, but it felt like an extended vacation because we saw so many things we wanted to file in long-term storage.
Here are some suggestions to ward off boredom and help create new memories.
Don't: Let your brain atrophy
Do: Sharpen your brain. There are fantastic college classes that are designed for retirees. Reach out to your local college to ask about its Continuing Education Department. Or, stay at home and practice a daily routine of using a Brain Training application, like Luminosity, on your phone.
Don't: Complain that there's nothing to do where you live
Do: Do something where you live. Every quarter our team and clients join us for a Volunteer Day. We pick a different charity each year that we visit quarterly to lend a helping hand. There are community organizations that need your wisdom and want to leverage your decades of experience. Get busy volunteering by Googling charities located in your town
Don't: Stare at your neighbor's yard with envy
Do: Join your local gardening club. Many of my clients are members of the local Camellia Club. Clubs like these are willing to share techniques, best practices and tips to make your garden show-worthy.
Don't: Leave blank pages in your passport
Do: Get those pages stamped. Check out Gate 1 Travel, Great Value vacations, Groupon and other travel sites for your international trips. These companies will book your flight, provide a trip itinerary and the best part is, you'll be surprised how inexpensive these trips can be.
Don't: Leave your camper in the backyard gathering pollen
Do: Create a domestic travel theme. For example, maybe you're a huge baseball fan. Make it your goal to see all the great American baseball parks. If you are an outdoors hiker, make a top-10 list of the best hikes in the US and embark on an inspiring hiking road trip across the US. If you are considering an RV, 3-wheeler or any type of camper, consider renting one before you buy one. Too many of our clients have bought one and then realized it wasn't for them.
Don't: Sit on a rocking chair all day
Do: Explore hobbies to see which ones excite you the most! For example, maybe you have always wanted to learn how to sail or try your hand at wood working. There are companies that will rent you the boat, teach you how to sail, and help push you out into the water. You don't have to worry about buying a boat, paying for insurance and maintaining it. Sadly, retirees think you have to own something to enjoy it. Explore many different hobbies to see which match your personality the best.
Don't: Watch the sports channel all day long
Do: Get out and play sports. Nearly every town has sports groups that are for seniors only. Try Pickleball; it's popularity has exploded with retirees. Sports are fantastic because they are fun, enticingly competitive, can help keep your body strong and your mind sharp, and enable you to make new friends.
It is no surprise that The Purpose Driven Life1 is one of the most popular books of the last twenty years. Rick Warren not only taps into a spiritual connection with readers, but also encourages us to act on our inherent desire to live a life of purpose and intent in making a difference in our community.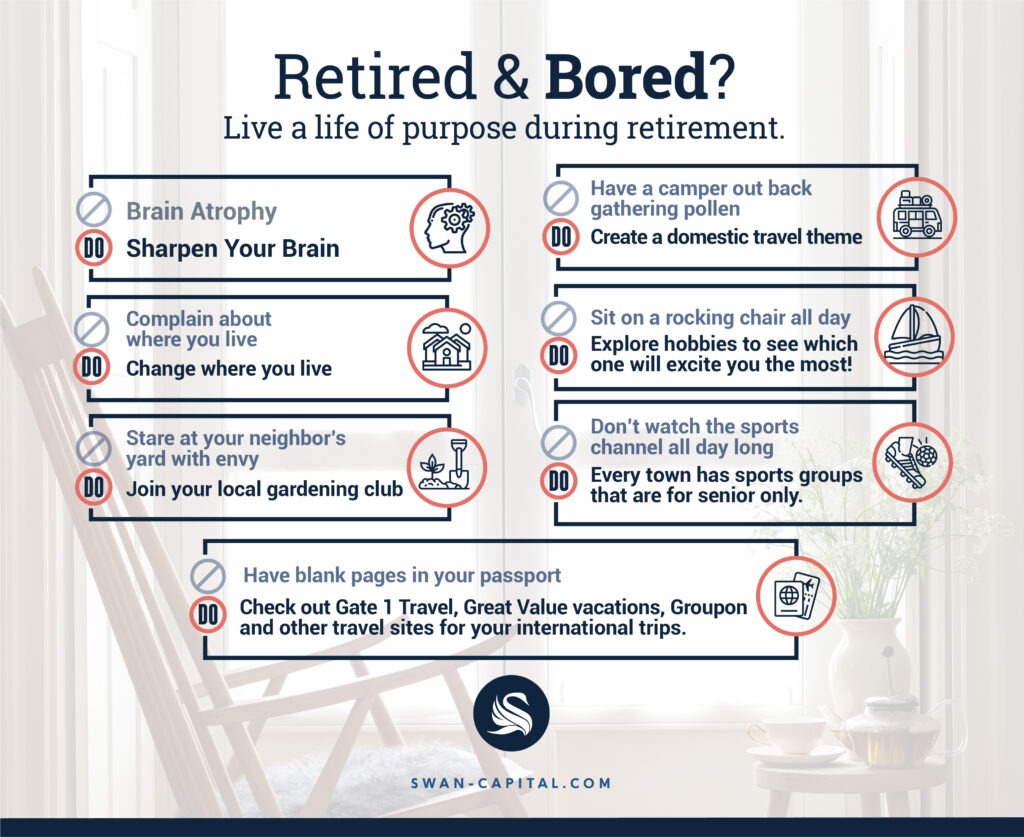 1 Rick Warren, The Purpose Driven Life Grand Rapids, MI: Zondervan, 2002. Investment advisory services offered only by duly registered individuals through Swan Capital.
Thought this info was useful?
Please share it on your social media platforms!
Ready to Take the Next Step?
For more information about any of our products and services, schedule a meeting today or register to attend a seminar.