The First 48 Hours After A Loved One Passes
You may have just received the dreaded call that your loved one passed. Or maybe you were the first to walk into the room to find them unconscious—or perhaps you held their hand in the hospital room as they passed. Regardless, the hours that follow seem to last forever. Amidst your grief and shock, your subconscious starts turning gears, and you began questioning everything: "What do I do next? Will we be OK? Was everything in place? Do I know where everything is? What's my first step?"
I want to provide this step-by-step guide so that when you find yourself in this scenario, you know what you need to do.
Step 1: Acquire a Legal Pronouncement of Death
Immediately, depending on where and how your loved one passed away, start by requesting a legal pronouncement of death. If the death happened in a hospital, nursing home, or other medical facility, the staff will perform this task. If the loved one passed away at home, call 911 (if it was unexpected) or reach out to their primary care physician if your loved one recently saw them. Otherwise, call the county coroner.
Step 2: Call the Funeral Home
The funeral home is your next point of contact because they will take care of the transportation of the body. If you have an existing relationship with a funeral home, the staff should already have your information regarding your loved one's burial plot and funeral wishes.
Also, the funeral home will coordinate any pre-burial financial arrangements you have already paid for to help offset the costs of the funeral, memorial service, and burial or cremation. They will also notify Social Security on your behalf.
In the next two days, work with them to determine the time, location, and day of the funeral. Make the decision about whether people should donate to a charity in lieu of flowers. You will also need to coordinate with the minister or religious officiant who will speak at the service(s) and provide this person with any details you would like them to share about your loved one.
Step 3: Gather DD2 Form, Marriage Certificate, and Birth Certificate
You will need to collect the following forms for the funeral home, government agencies, and financial institutions: DD2, marriage certificate, and birth certificate. If you do not have these forms, you can locate them at your local health department, the county courthouse where the marriage took place, and online at the National Archives for military records.
Step 4: Don't Make Any Immediate Financial Decisions
As a financial advisor, I've had the honor of being one of the first people called after a loved one has passed. I understand the family member wants to make sure that they're taken care of, wants to be proactive, or is trying to stay busy to keep their mind off the circumstances. My response is always, "You don't need to worry about anything right now. You only need to be present. Grieve and help your family navigate this traumatic week."
One of the best medicines for grief is being with your family and being 100% present. We tell our clients that nothing is a priority other than grieving and preparing for the funeral. The financial arrangements can wait a week, two weeks, or even a month if necessary.
In fact, after a loss, you should restrain yourself from making any financial decisions for at least a few weeks and sometimes months. I've experienced many widows and grieving survivors make sudden, long-term financial decisions after the passing of a loved one that they later regretted.
Step 5: Don't Make Any Immediate Promises to Your Children or Relatives
When children fly in from out of town and you have an overnight family reunion taking place, it's not the time or place to discuss business. Fight the urge to talk about assets, money, and possessions. It's time to heal, bring closure to wounds family members may have left behind, and forgive. It's a time to reconnect and grow closer as a family.
I've witnessed many false promises and regrettable decisions made to grieving children to help ease their pain of losing their loved ones. It's not the time to say," You can have his car, you will get his tools." This is not a yard sale.Children shouldn't be asking about the financial affairs or belongings of their parents during a time like this. Don't be afraid to set boundaries if relatives, perhaps desperate for financial help, broach inappropriate subjects during this vulnerable time. Advise them that those decisions will be addressed later when the time is right.
Step 6: Order More Copies of Death Certificates Than You Think
After the funeral is over and relatives have gone back home, you should request multiple copies of the death certificate in long and short versions. When you complete claims paperwork for accounts, life insurance proceeds, annuities, and closing various services, those companies may request that you send them a copy for their records.
After you complete these initial steps and are in a clear state of mind, then it's time to get your finances in order. Work with your estate planning lawyer, financial advisor, and financial institutions. Don't rush into any financial decisions. Don't hesitate to take breaks and give yourself time to grieve and honor the memory of your loved one. We'll be here when you need it.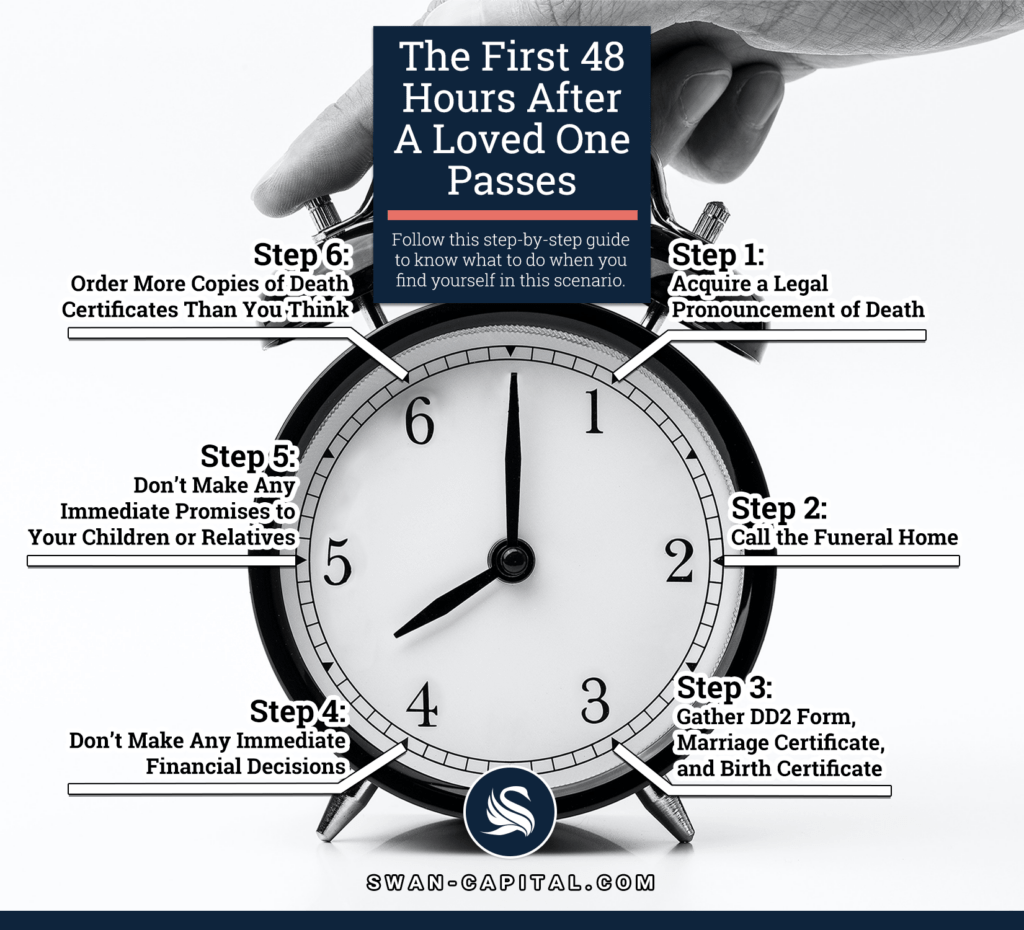 SWAN Capital is registered to conduct advisory business in Alabama & Florida and in other jurisdictions as permitted by law. Advisory services offered through SWAN Capital, LLC. Neither the firm nor its agents or representatives may give tax or legal advice. Individuals should consult with a qualified professional for guidance before making any purchasing decisions. Although there is no up-front tax deduction for Roth IRA contributions, qualified distributions are income tax free. Investing involves risk, including the potential loss of principal. SWAN Capital is not affiliated with the U.S. government or any governmental agency.
Thought this info was useful?
Please share it on your social media platforms!
Ready to Take the Next Step?
For more information about any of our products and services, schedule a meeting today or register to attend a seminar.