The Fable of Two Retirees
I want to introduce you to two retirees.
First, I want to introduce you to "Ann". Ann is 60 years old, has $500,000 saved and she wants to withdraw $24,000 a year for the rest of her life. She reads Money magazine before her meeting with her financial advisor and tells her advisor she wants her income to increase with inflation, too. The advisor says, "No problem, we have you invested in the S&P 500 and we have done fantastic in the past". Of course, you wouldn't be able to invest directly in the S&P 500, but this is a fable after all. As detailed in the graph below, this is how Ann's hypothetical retirement portfolio would look like over the next 19 years. Remember, Ann ins invested in the S&P500 with NO ADVISORY FEES.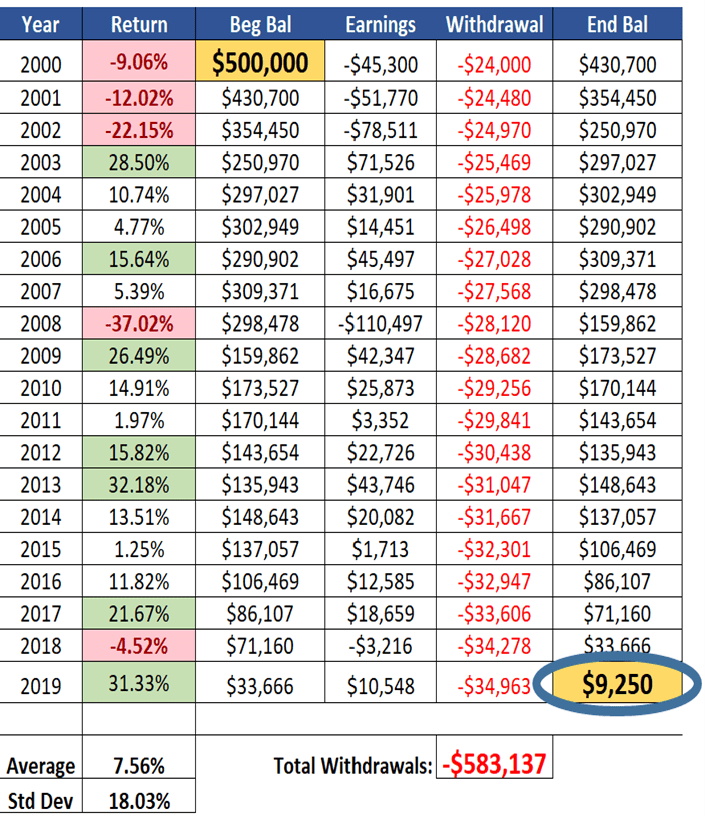 Wow! The first time I witnessed this graph even I was shocked to see how quickly her retirement savings disappeared. Now, before you look at her twin sister's retirement portfolio, I'll ask you two very important questions that couldimpact your retirement too.
Number one: Do you know what the market will do over the next 19 years of your retirement? Of course not; it is nearly a trick question. Number two: If we don't know what the future holds, can we at least have control over what the 500 CEOs who manage those public companies are doing? Of course not! None of us can prevent the CEO from getting a divorce, causing him to sell half of his shares, or the CEO that does drugs on a radio show, causing company stocks to plummet.
So with those two questions answered. Let me have the pleasure of introducing you to Ann's twin sister, Beverly, who is also 60 years old and has $500,000 invested in the market. She wants her retirement income to keep up with her sister and inflation too. The only change I am going to make is this. I am going to change the order of the S&P's returns over the 19-year period. Why do this? Because 19 numbers in any order still has the same average and we both already admitted we don't have control over the market and have no clue what the next 19 years will be like for our retirement. As you can see in the second table, Beverly's balance is completely different. Even though she, too, continued to withdraw income the entire time, she ended up with more than what she started with. What is the difference?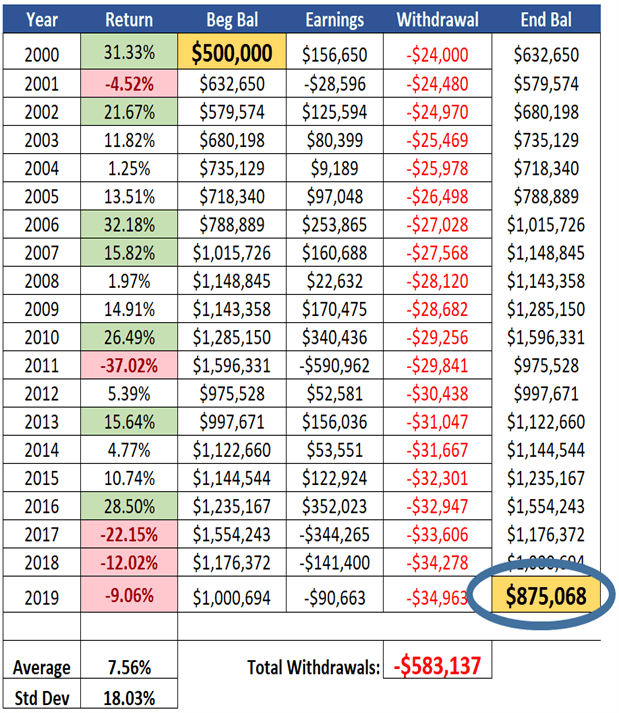 In Ann's case, poor returns came at the beginning of retirement, severely impacting how much money she had toward the end of retirement. For Beverly, I manipulated the order of those returns so that she had more gains in the beginning, not losses. The risk of unpredictable timing of market returns when making portfolio withdrawals is called "Sequence of Returns". How the markets perform in the first few years of retirement can set the tone for the rest of your retirement. The trouble with this type or risk is that no one has the ability to control the timing of market returns to ensure they are strong when they retire.
What I want to you remember is this: what got you here, won't necessarily get you to the promised land. Just like it wasn't Moses that led the Israelites to the promised land, it was Joshua. In other words, the guide that helped you accumulate money for retirement might not be the one you need to get you all the way through it.
Investment advisory services offered only by duly registered individuals through Swan Capital. We are an independent firm helping individuals create retirement strategies using a variety of insurance and investment products to custom suit their needs and objectives. This material is intended to provide general information to help you understand basic financial planning strategies and should not be construed as financial advice. All investments are subject to risk including the potential loss of principal. No investment strategy can guarantee a profit or protect against loss in periods of declining values. The information contained in this material is believed to be reliable, but accuracy and completeness cannot be guaranteed; it is not intended to be used as the sole basis for financial decisions.
Thought this info was useful?
Please share it on your social media platforms!
Ready to Take the Next Step?
For more information about any of our products and services, schedule a meeting today or register to attend a seminar.