Is Your Spouse Ready?
We are all 100% terminal. I know that is pretty dark and stoic. A pandemic is not necessary for us to realize that life is finite regardless of how long we live. Yet, one of the most common mistakes I have seen with DIY financial plans is that the planners don't plan for their own demise. Maybe you and your spouse handle your family's finances 50/50. However, I have not found this to be common place. Many times a family distributes various household jobs to one another to spread out the burden. For example one spouse may handle the checkbook while the other is in charge of the investment management.
My family is no different. My wife, Natasha, is very capable of handling our family's finances but she doesn't enjoy it; plus she knows a financial advisor that can handle it in his off time.
Here is how I have prepared for my ultimate departure:
Legal Documents – One key reason most people don't have their legal documents up to date is because we live very busy lives and the last thing we want to do is voluntarily go to an attorney's office. Another reason is because we don't know what we don't know. I have a degree in finance, not a JD behind my name, but it's important to have an estate planning attorney share with you what you really need or don't need. The basic legal documents everyone should have are a Last Will and Testament, Durable Power of Attorney and a Living Will. An attorney can discuss a life estate, trusts and other optional documents if they are a good fit for you. Always get a second opinion and bring your spouse so his or her legacy can be voiced.
Legacy Binder – A Legacy Binder should contain two years tax returns, all of your legal documents, most recent investment/bank statements and lastly insurance documentation for your home and auto(s). Every client of SWAN capital has their binder. The binder is a living breathing resource that is updated after every review with a client. We keep it all nicely organized within a 5-inch, 3-ring binder. If you have too much paperwork that won't all fit in your binder, then the binder is not the problem! We recommend minimizing what you keep because too much information can cause your family much pain and not enough information.
Checklist of documents and passwords – The checklist of documents is basically the table of contents for your life. It should contain a list of your important documents and where they can be found. For example, your birth certificate may be found in your safety deposit box. In this digital age it is important to keep a list of your passwords of each account in a password protected Excel sheet. This will allow family members to access all of your important accounts without the drudgery.
Simplify – Numerous families treat their investments like a bingo sheet. They have accounts in every part of town at various bank and financial institutions. Diversification is wise, but this can be done at one institution. One custodian, like Fidelity, Charles Schwab, Vanguard and others like them can hold all of your investments under one roof. Always prioritize being diversified by having a lot of eggs – but having them in one basket is not necessarily risky.
Spouses need to be involved and join any financial planning meetings. There have been too many empty chairs at my conference table. Those empty chairs were for spouses that were not asked, encouraged or convinced of the importance of being involved in the financial planning for their family. As I try to be the leader of my household, I consider it my job to make it inviting for Natasha to want to learn about the investment decisions for our family and feel included in the decision-making process. This is important because 90% of all women will be solely in charge of their family finances at some point in their lifetime
We work closely with an estate planning attorney for our clients, and he has always told me that an attorney who practices law for himself has a fool for a client. Remember, it is not a sign of weakness to have a financial coach be a part of your financial plan. Many have voiced the fear that by paying a fee to a financial advisor, you are guaranteed to have a lower return. This is not the case, and no one can be too smart or too rich for financial advice. I bring this up because if something happens to you, the worst thing you can do is leave this responsibility to your spouse who has never managed the investments nor is prepared to once she is 100% responsible for carrying the torch. He or she will most likely be forced to interview many wolves of Wall Street to find a genuine-integrity driven advisor. Do them a favor now and bring this individual on the team today.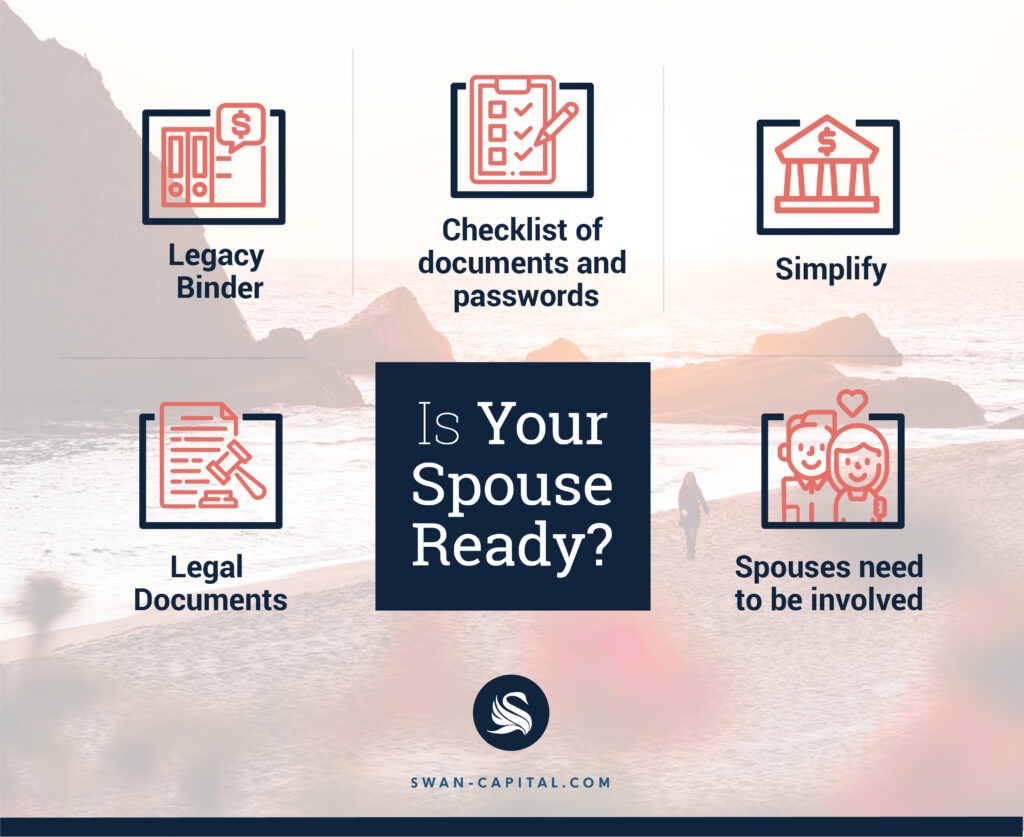 https://www.cnbc.com/2019/05/30/heres-how-women-can-become-financially-independent.html The views expressed above reflect the views of the author as of the date referenced. These views may change as market or other conditions change. This information is not intended and should not be used to provide financial advice and does not address or account for an individual's circumstances.We are an independent financial services firm helping individuals create retirement strategies using a variety of investment and insurance products to custom suit their needs and objectives. Investment advisory services offered only by duly registered individuals through SWAN Capital. Neither the firm nor its agents or representatives may give tax or legal advice. Individuals should consult with a qualified professional for guidance before making any purchasing decisions. 651236 – 6/20
Thought this info was useful?
Please share it on your social media platforms!
Ready to Take the Next Step?
For more information about any of our products and services, schedule a meeting today or register to attend a seminar.