A Solid Fiscal House Will Survive Any Storms
At SWAN Capital, we make it a priority for every client to have a solid fiscal house with foundation, wall, and roof accounts. Having a blend of all three accounts will ensure that you have enough liquidity, returns, and safety for the different investment goals your family wants to achieve. Volatility rose in 2022 and it is creating some opportunities in the market, but it is also building anxiety for many people as the future of the markets doesn't seem perfectly clear. However, we gathered some statistics, and we will explain some strategies that we are ready to implement if you find yourself anxious about your situation.
For many of us, market declines of the recent past are becoming faded memories as staying invested during these difficult times became an opportunity to profit from a recovery. At a time when we thought the economy would never recover, like 2008, the market and economy proved us wrong as we learned from our mistakes and continued to innovate. If you have been investing for a while, you have probably heard the advice to buy during a low instead of buying during a high. This is a great rule of thumb. However, the S&P500 is in a bear market already, and now we need to emphasize the importance of not selling during a low or a downturn like we are currently experiencing. The graph below demonstrates the importance of staying invested, or even increasing your contributions, when the market is down. In 2022, we have seen the market (represented by the S&P500) in the negative 20% to negative 25% range YTD. If we look at historical data since 1926, we see that the 1-year return following a 20% market decline is 18.6%; and following a 30% decline, it is 14.4%. The 3-year and 5-year returns are also above average. This demonstrates the importance of staying invested over the long term.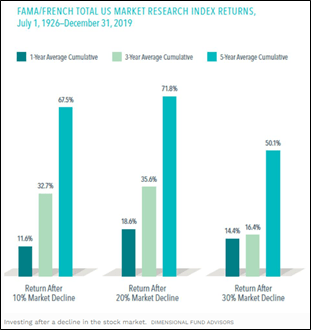 If you have an income plan and you are not taking withdrawals from your roof accounts, then you have time to weather the storm. Without taking distributions immediately you can take a little more risk and take advantage of a potential recovery. Our clients who are taking distributions from their accounts to complement their income can also benefit from a potential recovery since we have a financial plan in place and strategies to keep up with the market. With a solid fiscal house, you can live comfortably and take advantage of the market opportunities at the same time.
A question you need to ask: Are your guaranteed incomes going anywhere? If you have pensions and social security or even rental income, you won't dismiss the permanency of guaranteed income you cannot outlive. For example, if we have delayed social security long enough, maybe now is the time to enroll to provide the necessary income to keep your family confident through an economic downturn. If you need to find additional income sources, then you need to create a financial plan or adjust your current plan to your situation.
Most of our clients also have wall accounts. Wall accounts are accounts like private equity, hedge funds, index CDs, index annuities, and commodities. These types of accounts have alternative returns that act differently and sometimes advantageously when markets have a downturn. If you need to take income, go ahead take income from your wall account because that's what they were designed for. When the market goes down, these accounts historically don't so if we have a liquidity opportunity, we can take a distribution that could complement your income.
We require every client to have a financial plan because they make all the difference for such a time as this. When the fire happens and panic sets in, this is when a plan makes the difference. A solid plan allows you to stay ahead of the markets. We have gone through this drill before and we will go through this fire again. Market downturns happen frequently, and this won't be the last time we have one. We are confident not because we are delusional or blind and don't smell the smoke. We are confident because we had the forethought before, and now that there is an economic downturn our financial plans are thriving and creating opportunities for our clients.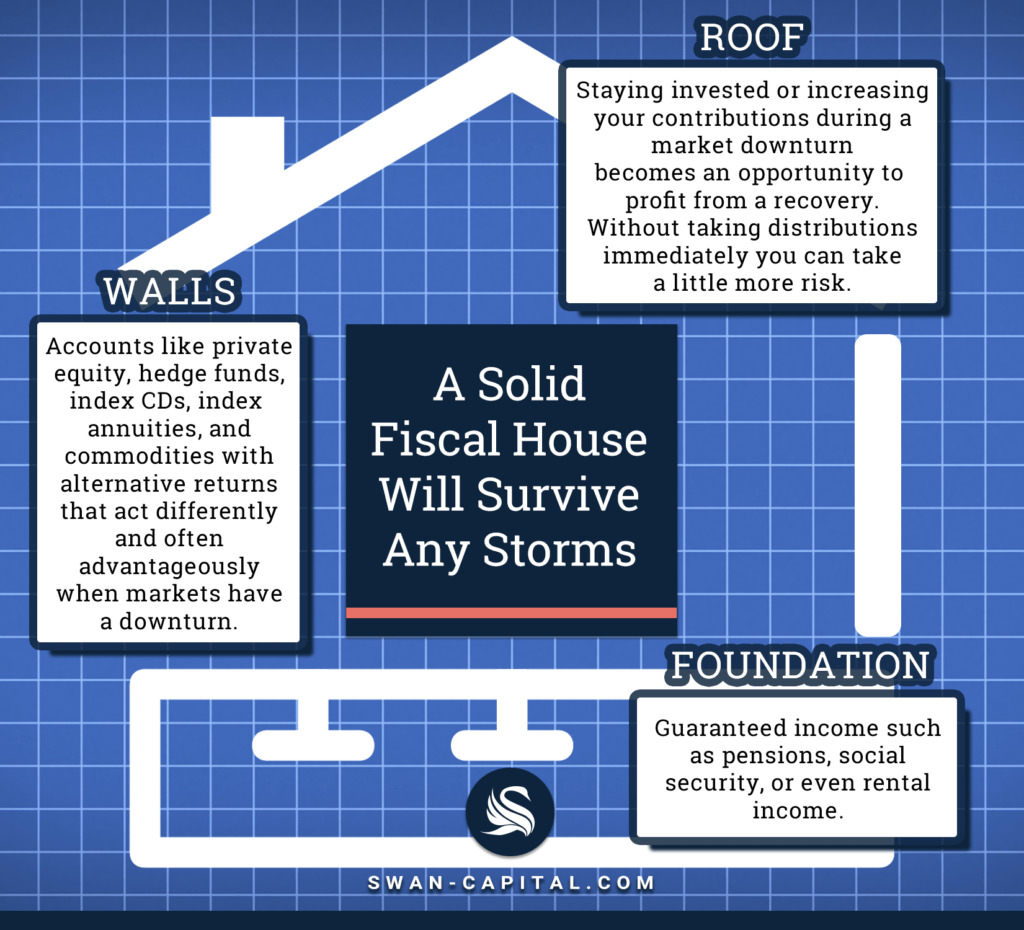 Swan Capital LLC ("Swan Capital") is a Registered Investment Adviser ("RIA") in Alabama and Florida. Registration as an investment adviser does not imply a certain level of skill or training, and the content of this communication has not been approved or verified by the United States Securities and Exchange Commission or by any state securities authority. Swan Capital renders individualized responses to persons in a particular state only after complying with the state's regulatory requirements, or pursuant to an applicable state exemption or exclusion. All investments carry risk, and no investment strategy can guarantee a profit or protect from loss of capital. Swan Capital LLC does not guarantee results. Past performance is not indicative of future results.  All investments carry risk, and no investment strategy can guarantee a profit or protect from loss of capital.
Thought this info was useful?
Please share it on your social media platforms!
Ready to Take the Next Step?
For more information about any of our products and services, schedule a meeting today or register to attend a seminar.